About Nainital & Places To Visit
The Heart of Uttarakhand Offers Many Places
"Devbhoomi" Uttarakhand is home of Gods, a land of tranquil spirituality and sublime natural beauty. Uttarakhand has a plethora of magnificent places and offers the best of natural splendors. Nainital is one of such splendid destination in Uttarakhand, nestled amidst the Kumaon Hills is a major tourist attraction.
Nainital located at an altitude of 2084 meters above sea level, derives its name from pear-shaped Naini lake. It is surrounded by mountains like Naina, Deopatha, and Ayarpatha. From picturesque and enchanting views of mountains to enticing adventurous activities, Nainital has loads of things to offer. It is one of the most sought after weekend gateway from Delhi NCR.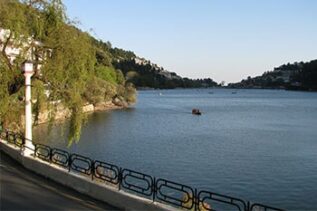 This emerald green pear-shaped lake is major tourist attraction in Nainital. In Skanda Purana Naini lake finds its mention as Tri-Rishi Sarovar. This lake, surrounded by lush green mountains, offers a heavenly view to peoples who come to visit Nainital. Honeymooners find this lake a perfect romantic spot. Tourists enjoy boating, yachting or paddling in the lake.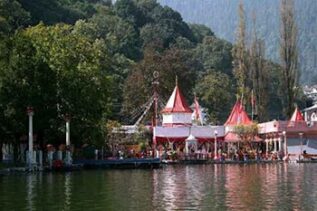 This temple is very sacred and of great importance. It is one of the Shaktipeeth's in India and most of the tourists visit to worship Naina Devi goddess.
Tiffin top is a famous viewpoint in Nainital which offers spectacular views of Himalayan mountains and landscape of Nainital. Tiffin Top, also known as Dorothy Seat, which is basically a stonework perch on the Tiffin Top built-in memory of painter Dorothy Kellet. To reach Tiffin top one can trek which is a wonderful experience or one can enjoy the horse ride to reach the top.
Naini Peak with a height of 2615 meters is majestic peak and most astounding as well around Nainital. This peak is also called as China Peak and offers a panoramic view of the Nainital. Naini peak is famous for trekking, horse riding and there are points from where snow peaks mountain can be seen. Sunrise and Sunset view from Naini peak is spectacular.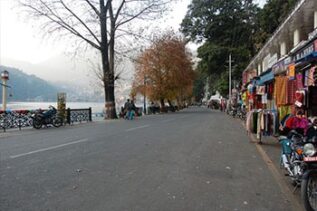 Like most of the British hill station, Nainital has one of the most attractive Mall Road. This runs parallel to the Naini lake and has many eateries, hotels, shops, and cafes. Tourists love to stroll for hours on this road and enjoy to seat calm and quaint in front of the lake.
Nainital zoo which is located at an elevation of 2100 meters is one of the most prominent tourist spots in Nainital. It has many endangered species of animals and birds. Tourist can see the rare and shy animals like Snow Leopard, Hill Fox, Siberian Tiger, Palm Civet Cat, Wolf, Barking Deer, etc.
It is the most enticing place in Nainital. It is approximately 2km from Mallital. This park has seven caves, and one can reach there through the narrow road. It attracts family and children.